MEDIA INTERNATIONALISATION & PROMOTION IN THE CENTRAL EUROPE / CEE / SEE / CIS – INNOVATIVE REGION SPECIFIC PROMOTIONAL TOOLS & SOLUTIONS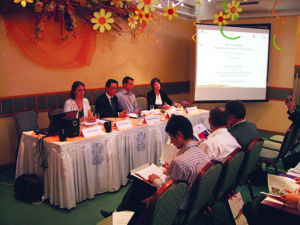 BENEFIT FROM INTERNATIONAL COMPETENCE & EXPERIENCE
Since 1998 SCHWARZ & PARTNER has been actively cooperating as an export marketing company, representative of various trade shows and conferences as well as a partner for various projects with trade media.
SCHWARZ & PARTNER has accumulated vast experience in various projects including media work and media promotion and representation in foreign markets.
BENEFIT FROM STRONG INTERNATIONAL PARTNER & MULTIPLICATORS NETWORKS FOR YOUR MEDIA

SCHWARZ & PARTNER has developed international active and passive partner & multiplicators networks.
For example only in the Czech Republic SCHWARZ & PARTNER has a strong partner network and cooperates with over 65 regional and area chambers of commerce and industry, 60 associations and craft unions, 8 regional development agencies, over 30 trade and industrial media. Only in the db of industrial companies interested in information on foreign trade shows SCHWARZ & PARTNER has over 4 000 entries.
BENEFIT FROM REGION AND BRANCH SPECIFIC DRIVERS FOR YOUR MEDIA

With over 20 years of international competence in intercultural communication and export marketing SCHWARZ & PARTNER excells in finding and developing efficient drivers for national and regional export & trade promotion organisations, chambers of commerce, associations, clusters, SME for your media.
BENEFIT FROM REGION AND BRANCH SPECIFIC MIX OF PROMOTIONAL TOOLS FOR YOUR MEDIA

A complex combination of promotional tools including export marketing seminars, trainings, media incentives, interregional export initiatives, international joint business missions for participants from various countries, regional and national partnerships, various international B2B events further supports efficient internationalisation of your media.
For more information please contact SCHWARZ & PARTNER.
BENEFIT FROM SEMINARS & TRAININGS FOR YOUR MEDIA

You may also be interested in seminars and trainings by SCHWARZ & PARTNER on intercultural communication and management with various target groups in the Central and Eastern Europe and EURASIA.
GET IN TOUCH WITH
Should you have any enquiries or would you like to discuss your project requirements and receive a personal offer, please do not hesitate to contact us by e-mail so that SCHWARZ & PARTNER can prepare a solution to meet your unique needs, wants and wishes.
We look forward to hearing from you.

   Office Lenka Kotllarova, Manager of Educational Programs > export (at ) spexpo. eu. Phone/Viber +420 603 278 654
EXPORT MARKETING SERVICES
design of competetive advantages
potential target groups
market study & pilot interviews
market segmentation & positioning
design of communication channels
complex promotion in multiple waves
export groups & market presence
INTERCULTURAL EXPORT COMMUNICATION
over 20 years of practice
target group oriented approach
Central, Southern
& Eastern Europe
comparative studies & trainings
seminars & business missions
publications & manuals
coaching, placements & stages
EXPORT PROMOTION IN EUROPE & ASIA
partner & media networks
DB of import oriented companies
telemarketing & newsletters
press conferences & B2B meetings
international trade shows
regional road shows
regional business missions
JOIN SCHWARZ & PARTNER @ EXPOS & B2Bs
AMB in Stuttgart
MSV in Brno
KONTAKTKONTRAKT in Brno
MetalMadrid in Madid
TOOLEX in Sosnowiec
Automotive Hungary in Budapest
JAPAN IT Week in Tokyo
JIMTOF in Tokyo
PRESS & PUBLICITY RELATIONS
target group oriented media selection
press releases in national languages
press distribution lists and virtual press centres
presentations and press conferences
press meetings and networking
press tours and interviews
press and publicity relations management
CEE/SEE/CIS PPR consulting
INNOVATIVE CONSULTING, SERVICES FOR EXPATS, COACHING & TRAININGS
efficient tools for inter cultural adaptation
intuitive harmonization of internal relationships
realising high work potential and resource approach
efficient peer – to – peer communication
how to protect Yourself from manipulation and conversational hypnosis in the foreign environment
NEW INTUITIVE TEAM BUILDING, METHODS OF MIRROR NEURONS, HIGH EMPATHY
a unique results-oriented method with high activation of Your team

´

s

Subconscious
high empathy with support of mirror neurons
better intuitive internal coordination via old Slavonic group techniques
innovative team energy potential tools

Stanislavsky´s system and new ways of team building
SEMINARS & TRAININGS IN EUROPE & ASIA
Efficient negotiations and successful B2B communication in Europe & Asia

Innovative presentations at international trade shows in Europe & Asia

Hidden Champions in the Central Europe
INTERNATIONAL BUSINESS MISSION
Automotive industry in the Czech Republic, Slovakia and Hungary with visit of AUTOMOTIVE HUNGARY TRADE SHOW in Budapest and automotive companies in the Central Europe > Budapest – Gyor – Bratislava – Kolin – Mlada Boleslav – Prague.